CHARLIE BALDUCCI AKA CHARLIE B
BIG FOUNDER
"Actions speak louder than words"
The NYC ARTS CYPHER was founded in 2004 by the visionary Charles Balducci aka Charlie B.

Charlie, a St. John's University Alumni class of 1998 graduated with a BA degree in Psychology and a minor in Criminal Justice.

Born in NYC, and raised in Staten Island, Charlie has been a pioneer in the arts and entertainment movement to establish Staten Island as a player in the arts and entertainment industry.

In 2005 after a handful of high exposure gigs with Viacom, Fox, and ABC, Charlie had a vision to create an art space that would revolutionize the arts and entertainment industry, not only for Staten Island, for all of New York City, and beyond.

His dream was to create a networking environment for young adults, artists, entrepreneurs and like minded individuals.That dream is the NYC Arts Cypher, at first the concept was just a production studio, but it quickly evolved into an amazing opportunity for young emerging talent to network in a creative environment. A space built by artists for artists.

Charlie's passion for the arts was the catalyst of his unwavering dedication to serve the community. He was an entrepreneur and philanthropist that had the innate ability to address social issues by utilizing the different facets of the arts and cultural world.

One of his noteworthy accomplishments is the accolade received at the Staten Island Film Festival in 2010 for "Best Documentary Short" for his film M.U.R.A.L. an acronym that stands for Motivate Understanding Realizing Artists Learn. Charlie created the M.U.R.A.L program in 2006 as a response to the NYPD Computer statistic reports showing spikes in teen graffiti related arrests.

Charlie saw the opportunity and the necessity to help the youth redirect their creativity in a positive way by providing the NYC Arts Cypher as an outlet and safe environment to practice Graffiti.

In 2013 he created the Don't Be a Bully program to raise awareness to combat Bullying, a very important issue in our society. He created different programs which were introduced throughout schools on Staten Island. The programs bring out the best in each individual, working to build the students' self-esteem by developing their artistic talents and expression through cooperative projects.

Before his passing Charlie was working on a Mural virtual class with Dylan Giangrande and a group of youth who needed a positive outlet during the Pandemic in collaboration with NeOn Arts.

Today we continue his legacy through his work and with the support of all that believe in his vision.

"That every contribution no matter how small can make a difference in someone's life."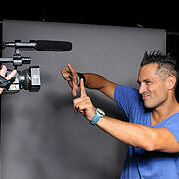 What is the NycArts Cypher?
An arts space that is interactive, inspiring, and motivating
A networking hub for all who are interested in arts and entertainment
A space that promotes artists services and showcases their talents
A revolutionary nonprofit organization that promotes positive values through its programs, projects, and events
A cutting edge business model for duplication in every major city.

Charles Balducci has brought this organization from a concept to a reality, standing 2 stories high and located at 12 Broad Street in Staten Island New York 10304, the NycArtsCypher is a unique landmark for arts and entertainment. For more info on this location and the organization founded by Charles Balducci please log on to www.nycartscypher.com.
In 2014 NycArtsCypher welcomed OverSpray (OverSprayNYC.com) to the first floor as an Event Space that caters to the entire community with a backdrop of colorful and energetic art. "Hall Of Murals" as its called is an ongoing open exhibit that allows interaction with artists who paint large scale murals and street art with the nightlife and themed event community. Party planners are welcomed to rent the space and all month long the membership throws Showcases, Exhibits, and private or special themed events! Check it out!
Charlie Balducci aka Charlie B is a


PERSONALITY.PRODUCER.PHILANTHROPIST.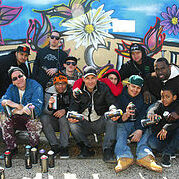 "I believe in what Charlie Balducci has created in the NycArtsCypher. It is an innovation and a unique way to give everyone involved a place to express themselves through the arts. It's the best of all worlds! Artists become dancers. Musicians become models. It is CRAZY! It's a great way to get an idea on what arts you may be in to. Reach out to them at admin@nycartscypher.com or NycArtsCypher.com."

Mike B.- New Jersey
"This spot is dope! It is such a great place to come and vibe with all kinds of artists, dancers, graffiti writers, musicians, and in general people that are motivated. There is art on the floor, the walls, and in discussion. I live in Manhattan, and we don't even have this kind of spot in the Big Apple! Kudos to Charlie Balducci for having the determination to succeed in a place that doesn't have the benefit of a huge artsy community, so he is creating his own! Kids, emerging artists, politicians…I cant wait to have one in NYC. Hey if you wanna reach out to any members of the NycArtsCypher, look at nycartscypher.com, call 718.981.8510."

Jeremy A.- Manhattan